September 2020 Fidelis
Letter from the President
Dear JWC family and friends,
"The LORD is exalted . . . and he will be the stability of your times!" (Isaiah 33:5-6).
As was needed in Isaiah's day, so also is this true in our day: God is the stability of our times, but we must trust in Him and seek His wisdom and glory.
At John Witherspoon College, our mission is to glorify God as the beginning and end of all knowledge. We seek to glorify Him through our mission of providing Christ-centered, classical education for service to the church and the world.
We are so grateful that God is giving us a great start to another academic year. The Lord has blessed us with a significant increase in student enrollment. We are also blessed with outstanding staff and faculty, including new adjunct professor, Dr. Julie Stoll. In this issue of Fidelis you can become more acquainted with her and our students as you read below.
We are entering our ninth year as a four-year, degree-granting college. You are welcome to join us for our ninth Convocation on Thursday, September 3, 6:30pm at the JWC campus located at 4024 Sheridan Lake Road in Rapid City. Please RSVP at (605) 342-0317 by September 2 so we can arrange proper seating.
Thank you for your involvement and ongoing support of the students at John Witherspoon College. May you know the Lord is exalted and experience Him as the stability of your times.
Sincerely yours in Christ,
Ronald Lewis
President
BACK in CLASS!
JWC Begins Fall 2020 Semester
JWC kicked off the Fall Semester with New Student Orientation last Friday, followed by a backyard BBQ with Faculty and Staff. We are excited to welcome new students from the Black Hills area, and for the first time, from North Carolina, Idaho, Texas, and Minnesota as well.
Class sizes are limited to 10 (including the Professor) this year. Courses taught this semester include Greek I and III, Classical Rhetoric, Ancient World, Ancient Literature, Renaissance & Baroque English Literature, Poetry & Wisdom of the Old Testament, Economics, Biblical Interpretation, Old Testament Story, The Gospels, Theologia Principia I: Method, God, and Creation, College Algebra I, American Experience I, Leadership Foundations II, Philosophy, and Physical Science with Lab.
Convocation Service on Thursday, September 3
You are invited and encouraged to attend the annual JWC Convocation on Thursday, September 3, at 6:30pm. It is very important that we come together before the Lord as a JWC family as we enter this new academic year.
The theme of the service is "Faith, Hope, and Love." You will be blessed as several of our JWC alumni will be leading us in music and sharing testimonies. We will also have a time when our Board of Trustees, staff, and faculty will sign our Statement of Faith.
The service will be less formal than previous years and the dress casual. Please RSVP by September 2nd to Pam Rider at (605) 342-0317 so that we know who plans to attend and can arrange seating. With great joy, we look forward to our time together with the Lord and one another.
JWC Welcomes Dr. Julie Stoll to Faculty
Julie Stoll comes to JWC from a winding journey through communication studies. Her Ph.D. degree is in an integrated field of communication, linguistics and medicine as she focused on analyzing discourse patterns in stroke patients. In second language acquisition, she researched discourse communities among immigrant English speakers and then to teaching English for academic purposes (EAP) to international graduate students (George Mason University). Throughout her years in academia (in the US, Korea, Saudi Arabia and South Africa) and during her years in church equipping and mobilization, as Director of Missions, her pervasive passion has been understanding various cultural perspectives within the development of a Christian worldview. Recent completion of a MABS has encouraged Julie to continue seeking ways to encourage students to love well those who think differently.

Julie and her husband Koby moved to the Black Hills two years ago to serve and care for his 94-year-old mom, who went home to the Lord just last week. Originally an Army brat, Julie has moved many times in her life, fostering a love of travelling and meeting new people. Serving in the military and then Department of State, Koby and Julie spent most of the last 20 years in the Washington DC metro area raising their two children, Jean (28) and Jake (24). Her hobbies include photography and storytelling through literature, gestures and visual images. She also has a secret love of history and ancient artifacts.
We are thrilled to have Dr. Stoll teaching Ancient Literature at JWC this fall (see picture below).
Please share with others about JWC!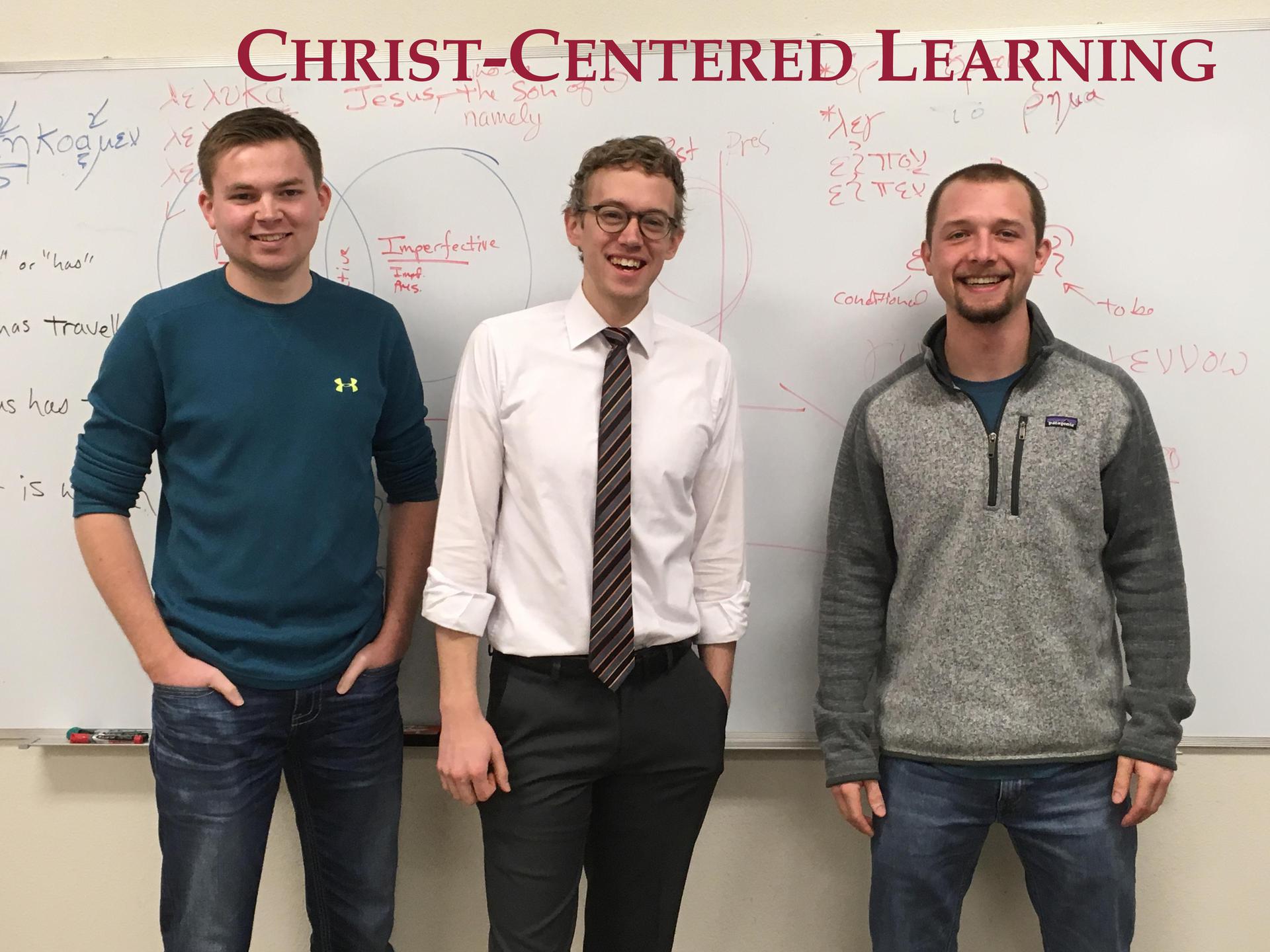 Classical, Christian Education
Serving Christ Wherever He Leads
Raising Up a New Generation of Leaders
"There is no peace like the peace of those whose minds are possessed with full assurance that they have known God, and God has known them, and that this relationship guarantees God's favor to them in life, through death and on for ever."
Our Contact Information
*{{Organization Name}}*
*{{Organization Address}}*
*{{Organization Phone}}*
*{{Organization Website}}*

*{{Unsubscribe}}*