April 2023 Fidelis
Letter from the President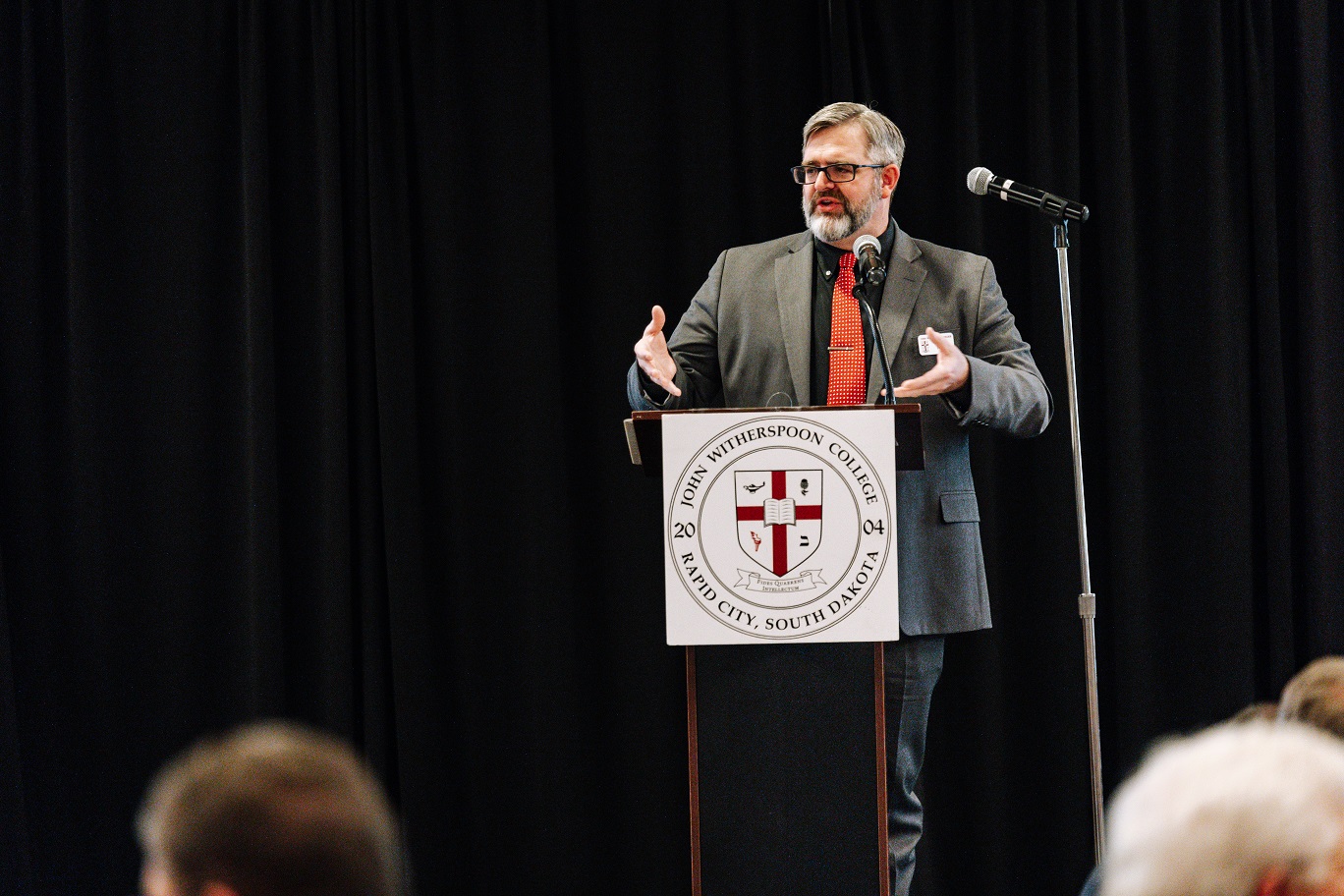 Dear JWC family and friends,
It would be remiss of me not to acknowledge with great appreciation all of the support and love that was poured out for JWC at our Generation Six Forty banquet last month, so I wanted to begin this letter sincerely expressing the gratitude that I have for each of our donors, sponsors, and supporters. In our ongoing quest to offer affordable education that won't impoverish our students, we simply must have external support from like-minded people. All who gave have blessed the school greatly and – through the school – blessed the next generation of Christian thinkers. Thank you!
As I reflect on the banquet, I also cannot help but be struck by the appropriateness of this reflection in the month of Easter, as we celebrate the Resurrection of our Lord. Each of us exists in a state of spiritual poverty. Each of us has need of support and sustenance that we cannot provide for ourselves. It is only because of the sacrificial work of the Christ on the cross that we have hope of continuing onward. And the price that He paid is infinitely more valuable than we could ever deserve. But in the magnificence of His grace, He nonetheless destroyed all the debts of our sin. To a grave He went. But we rejoice knowing that He did not stay in the grave and He reigns, a Living and Mighty God! He paid the price, and burst the bonds of death with a promise to us that we who abide in Him also will see newness of life.
Jesus paid every price, so we respond to his promise and grace by living for His glory. We respond by seeking to be Christ-centered in every aspect of our lives. (Ephesians 2:8-10)
At the Generation Six Forty banquet, we embraced the theme "Faithful for the Journey". We reflected on how God is faithful to His people, and so we are called to endure the journey until we arrive at the place where God would have us be (Hebrews 4:9-11). In the Exodus, God's grace preceded and enabled the Hebrews' labors. In our salvation, Jesus' grace comes before and enables us to serve Him. To ignore the call to serve is to denigrate the grace given. Similarly, JWC has been sponsored and supported. As this has occurred, the right response is to move forward faithfully. This is our commitment to each of you: we will continue to offer education centered in Christ-centered learning, supporting Christ-centered living, and providing Christ-centered leading.
You have sacrificed for us. We will be faithful to honor your sacrifice in our work. But as generous as your gifts were and are, ultimately the demand for our faithful commitment to continue our labors is not simply to respond to your giving, but to the Christ's grace. As He has been faithful to us, so may all of us in every way be faithful to him. He arose from death. He reigns in life. Hallelujah!
May God's peace rest on each of you on Resurrection Sunday, and always.
"Blessed be the God and Father of our Lord Jesus Christ! According to his great mercy, he has caused us to be born again to a living hope through the resurrection of Jesus Christ from the dead, … In this you rejoice, though now for a little while, if necessary, you have been grieved by various trials, so that the tested genuineness of your faith—more precious than gold that perishes though it is tested by fire—may be found to result in praise and glory and honor at the revelation of Jesus Christ" (1 Peter 1:3, 6-7)
Generation Six Forty
"Faithful for the Journey"
Student Video
Video played on March 24th at the Generation Six Forty Fundraising Banquet
Two hundred guests of John Witherspoon College gathered at the 2023 Generation Six Forty fundraising dinner on Friday, March 24th at the Rushmore Plaza Holiday Inn in Rapid City.
After enjoying a buffet dinner, dessert, and fellowship with one another, the JWC Alumni Choir began the night by singing "O Sacred Head, Now Wounded". President Swann shared a tremendous message based on our theme for the evening, "Faithful for the Journey", based on the Exodus with his application today from Hebrews 4:6-10. Dr. Debra Burton, our resident historian, shared a heart-felt history of JWC and its importance in our community and world. Two senior students, Ethan and Isak, shared their testimony, followed by Sarah, who led the opportunity to give, as Katie Lautenschlager played the violin.
We hope you will listen to our 12 minute video (above) to hear from eight JWC students about where their journey is taking them and how JWC has prepared them for that journey.
NOTE: If you were not able to attend, we invite you to GIVE online by clicking below, or mail your gift to :
John Witherspoon College
PO Box 9014
Rapid City, SD 57709
ECO302: History of Economics*
May 15-19 (M-F), May 22-26 (M-F)
2:00pm-5:30pm
Michael Sulhoff, Adjunct Professor of Economics
A study of economic theory and practice since the earliest records of trade. This course will investigate competing ideas that have been adopted and their consequent effects, both contemporary and subsequently, as well as their ongoing effects on politics and social dynamics.
*Course Prerequisite: ECO 201 Introduction to Economics (or CAO approval)
MIN204: Foundations for Christian Ministry*
May 15-18 (M-Th), May 22-25 (M-Th)
9:00am-12:30pm
Pastor Kyle Gangel, Adjunct Professor of Christian Studies
An introductory study of the nature and practice of church and para-church ministries, with particular interest in lay ministry. Course requirements include attendance at the Biblical Counseling Conference at Southern Hills Bible Church in Custer on Saturday, June 3, 9:00am-5:00pm.
*Prerequisite for MIN 304: Biblical Counseling
The world is drowning in words. Some four million are books published every year, plus e-books, audiobooks, and magazines, not to mention television, movies, and videos; blogs, podcasts, and social media; and an estimated six to ten thousand ads forced on every American every day! But where--amidst this bewildering cacophony of words--shall wisdom be found? (Job 28:12). That long-ago question from Job is more relevant today than ever. And so is his long-ago answer: Behold, the fear of the Lord, that is wisdom (Job 28:28; cf. Prov 1:7; 9:10; Ps 111:10). That's biblical bedrock for building a life--a God-centered life. A life of significance and satisfaction, humility and hope, confidence and joy. The book of Proverbs gives you the tools, and the book you hold in your hands will help you use the tools. Solomon Day by Day won't change your life, but it will change the way you look at the proverbs. And the proverbs will change your life!
ABOUT THE AUTHOR
C. Richard Wells is founding President and chancellor of John Witherspoon College (Rapid City, SD). He previously served on the faculty of Union University (Jackson, TN) and Beeson Divinity School (Birmingham), as President of Criswell College (Dallas), and as a pastor in Florida, Texas, and South Dakota. He is the author of numerous publications, and coauthor of books on preaching and the psalms.
Please share with others about JWC!
| | | |
| --- | --- | --- |
| Classical, Christian Education | Serving Christ Wherever He Leads | Raising Up a New Generation of Leaders |
"For by grace you have been saved through faith.
And this is not your own doing; it is the gift of God,
not a result of works, so that no one may boast.
For we are his workmanship, created in Christ Jesus
for good works, which God prepared beforehand,
that we should walk in them."
Our Contact Information
*{{Organization Name}}*
*{{Organization Address}}*
*{{Organization Phone}}*
*{{Organization Website}}*

*{{Unsubscribe}}*